Investment through 2050 would create almost 10,000 new jobs, add cumulative $44 billion in new economic activity
CAMPBELL RIVER, BC – An independent report out today indicates BC's salmon farming industry has the potential to be a leader in BC's post-pandemic economic recovery by stimulating $44 billion in new economic output by 2050.
This report, Raising Opportunity: How Farm-Raised Salmon Can Lead BC's Post-COVID Recovery, was published by RIAS Inc., an independent economics consulting firm. It concludes that if Ottawa and Victoria are able to provide a predictable policy approach, salmon farmers in BC are poised to help lead Canada's Blue Economy and recovery from COVID-19 by directly investing $1.4 billion in innovation, new technology, and infrastructure through 2050 – $113 million by 2021, an additional $684 million by 2030, and the remaining $618 million through 2050.
These investments, in total, will stimulate $44 billion in cumulative economic output for the province over the next 30 years and create nearly 10,000 new jobs in coastal communities on Vancouver Island, mainland, and the Sunshine Coast.
"Like many First Nations in BC, the Tlowitsis are eager to grow our community and develop a lasting economy from our traditional territory," Chief John Smith of the Tlowitsis First Nation said. "Developing salmon farms in Clio Channel is a cornerstone for our Nation, another farm would be even better, and I wish this partnership happened earlier."
COVID-19 has had a significant impact on the Canadian economy and revealed the need to build robust and resilient food systems here at home. Depending on the magnitude of a potential second wave, Canada is expecting a $343.2 billion deficit with the economy expected to contract at least 6.8%.
The provincial economy is also expected to shrink by 6.8% in BC, with many job losses coming from youth. In 2020, BC is expecting the largest deficit in history of $12.5 billion.
"Many of the regions where salmon farming operations play a significant role in supporting local vendors are in the northern and western regions of Vancouver Island that have been experiencing declines in employment,' said George Hanson, President of Vancouver Island Economic Alliance (VIEA).
VIEA supported the overall report development and offered insight into the COVID-19 impacts on Vancouver Island's economy.
Report findings are clear that private sector investment will be critical in supporting the economic recovery of British Columbia, especially rural coastal Vancouver Island.
"As shown in our recent 'Raising Opportunity' report, this industry has tremendous potential to generate economic activity, jobs, investment, and regional growth as a key part of BC's return to health and prosperity," says Doug Blair, President of RIAS Inc.
BC Salmon Farmers were designated an essential service in the early stages of the pandemic, a designation the sector takes seriously, and which has resulted in ongoing economic activity helping small business in rural Vancouver Island.
The report not only highlights how BC salmon farmers can contribute to BC's healthy economic recovery, but also includes contributions to BC's social development objectives, strengthening food security systems, and BC's environmental objectives.
"The results of this report are very significant for the salmon farming community and for the province," says John Paul Fraser, Executive Director of the BC Salmon Farmers Association, which sponsored the report. "It means more jobs and higher economic benefits in BC which are especially needed now, as our province deals with unprecedented economic hardships."
It also outlines immediate steps to address misinformation about the industry while boosting investor certainty, including a clear call to federal and provincial governments to establish an agreed-upon fact guide and to develop predictable public policy for the industry. With a certain future, BC's salmon farmers are ready to invest in rural coastal communities, creating opportunity for generations to come.
"The BC salmon farming sector is ready to help lead BC's post COVID-19 recovery, especially in rural coastal communities on Vancouver Island, but we need certainty first," says Fraser.
Read the full report and summary report at https://ready.bcsalmonfarmers.ca/report/.
About the BC Salmon Farmers Association:
Farm-raised salmon is BC's highest valued seafood product, the province's top agricultural export, and generates over $1.6 billion towards the BC economy, resulting in nearly 6,500 jobs. The BC Salmon Farmers Association represents 70 businesses and organizations throughout the value chain of finfish aquaculture in BC. Our members account for over 95% of the annual provincial harvest of farm-raised salmon in British Columbia.
Quotes:
Chief Bruce Frank, Tla-o-qui-aht Hereditary Chief –
"Tla-o-qui-aht and Creative Salmon have come a long way with their relationship over the last 30 years. It hasn't always been easy, but it's always been important. Our protocol agreement with Creative is about respect. They listen to concerns and we find a path forward. The company brings a lot of economic benefit to our Nation and employs our people. Those are valuable jobs with a solid wage and excellent benefits. The Tofino area needs more than tourism. We do not want to see salmon farming's benefits disappear from our community."
Chief Roxanne Robinson, Kitasoo/Xai'Xais Nation –
"Our relationship with Mowi and the salmon farming industry has been very important for our people, creating jobs and economic opportunity for the community. Our partnership has evolved over the years. Mowi has supported the community so well that we have strong ties and lifelong friendships. The traditional territories are of significant importance to us and we take who we allow to operate in our territory very seriously."
Hasheukmiss, Richard George Son of Tyee Hawilth Maquinna, Ahousaht
Nation –
"Ahousaht leadership has had long term oversight of salmon farming in our Hahoulthee. Through my leadership responsibilities, I have taken the time to educate myself on Cermaq Canada's current practices and believe salmon farming done well, has a role to play in providing economic stability, secure jobs and food security. The transparency Cermaq displays as an operator allows for collaboration on important projects directly related to wild salmon restoration and enhancement, community initiatives, and more recently supporting my Nation with the challenges COVID has placed on all of us. Innovative and progressive salmon farming practices are required as we all work to find ways to combat the challenges presented by climate change. It is all our responsibilities as leaders, to open our minds to protecting our resources, while being aware of the changes that are happening around us and to consider new opportunities to support the health, wellbeing and prosperity of our Nations."
James Walkus, Gwa'sala-'Nakwaxda'xw First Nation –
"The Gwa'sala-'Nakwaxda'xw Nation gets royalties from aquaculture, which helps the
community, and we've had community members employed at Mowi Canada West from day one. So, for those folks that want a steady job, their lives have improved as a result of aquaculture…The partnership has been tremendous. We have First Nations people from our reserve working on these boats. Plus, many of them are working at the plant. It is absolutely great for our people."
Andrew Adams, Mayor, City of Campbell River, BC –
"For Campbell River a stable, sustainable fishery, and science-based growth in aquaculture, can continue to drive our economy and the significant advancements in our technology, manufacturing and processing sectors. Yes, it is critically important that we protect and preserve the wild stocks, but as the 'Salmon Capital of the World' we have the opportunity to also be a centre for aquaculture. The world's growing population cannot be sustained by commercial fishing and aquaculture can assist in meeting those demands by providing an alternative which will help in preserving our Commercial and Sport fisheries."
Brad Unger, Mayor, Village of Gold River, BC –
"Fish Farming is integral to the Gold River economy. It produces stable high-quality employment for Gold River and MMFN (Mowachaht/Muchalaht First Nations) residents and provides a very high-quality product that is recognized World-wide. I know Grieg Seafood continues to strive for the most recent advanced, ethical methods of Fish farming."
Dennis Dugas, Mayor, District of Port Hardy, BC –
"In terms of post-Covid recovery, my message to anyone who doesn't live in a rural ocean-based community is that we depend on land and water-based industries, especially aquaculture. We want to see this industry grow, there is no reason why it shouldn't. It is an industry that is sustainable for our indigenous communities, for us and for the coast. It is of the utmost importance that that the salmon farming industry continues to grow here, because it is supplying food security not only to our community but to BC, Canada and the world. Aquaculture done sustainably is our future."
Gaby Wickstrom, Mayor, Town of Port McNeill, BC –
"The Port McNeill business community directly benefits from the Aquaculture industry operating in our region. These purchases circulate directly back into our local economy."
Doug Blair, President, RIAS INC. –
"During the first phase of the pandemic, the Government of BC moved quickly to stem the spread of the virus and to provide supports to offset economic damages and financial strains on BC families. As an essential service, salmon farmers in BC also played their part by not only keeping existing staff employed, but by hiring additional staff to help them manage the COVID situation. By continuing their operations, BC salmon farmers helped to cushion the negative impacts of the pandemic for more than 1,700 local vendors across BC that serve the sector, like fish processors, transporters, technology suppliers, boat operators, as well as local restaurants, hotels and businesses. And as we weather the 2nd wave of this pandemic, the salmon farming industry remains uniquely positioned to play a critical role in BC's recovery strategy – particularly in remote, coastal and Indigenous communities that are most in need at this time.
Janet Dorward, Councillor, Port Hardy, BC –
"Aquaculture has been safely producing top-quality food around Port Hardy for a long time and I'm so appreciative of the numerous contributions that this industry has provided to our area. I'm excited for the industry to grow here, and for everyone in the North Island to benefit from the economic lift that will provide us all with better futures."
John Bowman, President, North Island College (NIC) –
"North Island College appreciates the support the BC Salmon Farmers Association and its members have provided over the years. The BCSFA's support of student awards, programming and funding for applied research projects have provided our students with relevant, real-world training and experience. We hope to work with them even more in the future."
Matt Clarke, member of the Campbell River Independent Economic Taskforce and Co-Founder of Poseidon Ocean Systems –
"Salmon aquaculture is a critical part of our coastal communities, from Nanaimo up to Port Hardy. The potential outlined in the BC Salmon Farmers economic report is promising and gives us all optimism for the future. It's clear that salmon aquaculture can contribute immensely to the healthy recovery of North Vancouver Island. We need to come together to seize the opportunity."
Pauline Stevenson, Founder and President, Excel Career College –
"Salmon Farming is a BC economic powerhouse that feeds our communities in more ways than just protein."
Rose Klukas, Economic Development Officer, City of Campbell River –
"Aquaculture continues to be an important part of Campbell River's economy, creating jobs throughout our region and addressing global food security issues. Through initiatives like NexStream tech challenges, we support innovation for the long-term benefit of both the industry and our community. "
Sophie Ryan, CEO, Global Salmon Initiative –
"British Columbia is already the fourth largest producer of salmon aquaculture in the world. This report indicates it can do more, which is exciting to see, especially as British Columbia aims to lead Canada's Blue Economy and help coastal communities recover during the COVID-19 pandemic. Globally, the salmon farming sector has huge potential to support the economic recovery of almost all regions of the world in which our members operate. This is a great first step in the right direction."
Stan Vander Waal, President, BC Agriculture Council (BCAC) –
"The Economic Opportunity Report complements recent work done by BC Agriculture Council and Investment Agriculture Foundation of BC on Cultivating Prosperity in BC. The economic reports completed by both sectors demonstrates the overall contribution of land and ocean-based farming sectors to our province, and more specifically, how farmers and the food system can help British Columbia emerge from the pandemic stronger than before. BCAC looks forward to the continuation of a shared vision between the agri- and aqua- culture sectors."
Tim Kennedy, Executive Director, Canadian Aquaculture Industry Alliance (CAIA) –
"BC's salmon farmers are amongst the best, most sustainable producers of salmon in the world. They are supporting communities and families where there are little other opportunities; they are growing a sustainable, innovative local food supply; and they are leading real reconciliation with Indigenous peoples. With the right government support and a collaborative and clear path forward, BC's salmon farmers will drive BC and Canada's leadership towards our national goal of being a top three sustainable seafood producer in the world as part of the global Blue Economy."
Quick Facts: RIAS Inc. Report
By 2021: $113 million in new investment, 13,580 tonnes of additional salmon production, 430 new jobs
By 2030: $684 million in new investment, 65,000 tonnes of additional salmon production, 5,224 new jobs
By 2050: $618 million in new investment, 54,000 tonnes of additional salmon production, 9,414 new jobs
By 2050: 50 new First Nations agreements are anticipated
Total additional economic output from 2020 to 2050: $44 billion
Vancouver Island Economic Alliance (VIEA) supported the report with an overview of Vancouver Island's economy comparing key sectors such as aquaculture, forestry, tourism and education.
Quick Facts: BC Salmon Farming Sector
BC farmed salmon is BC's #1 seafood and agri-food export with a total economic output of $1.6 billion.
Salmon farming currently supports nearly 6,500 full time jobs that pay 30% higher than BC's median income.
Many of these jobs are in rural coastal Indigenous and non-Indigenous communities on North Vancouver Island.
Salmon farmers produce 87,000 tonnes of farmed salmon annually, this creates 353 million healthy, locally produced, carbon friendly meals.
Since the pandemic salmon donations to local and regional food banks alone have exceeded 112,000lbs (equal to over 500,000 meals).
In 2019, BC Salmon Farmers donated over $2.2 million to support local rural coastal communities.
Over 80% of salmon farmed in BC is done in agreement with BC First Nations. Over the next 30 years, BC Salmon Farmers project that more than 50 additional agreements will be established.
For Media Inquiries:
Michelle Franze
Manager of Communications, Partnerships and Community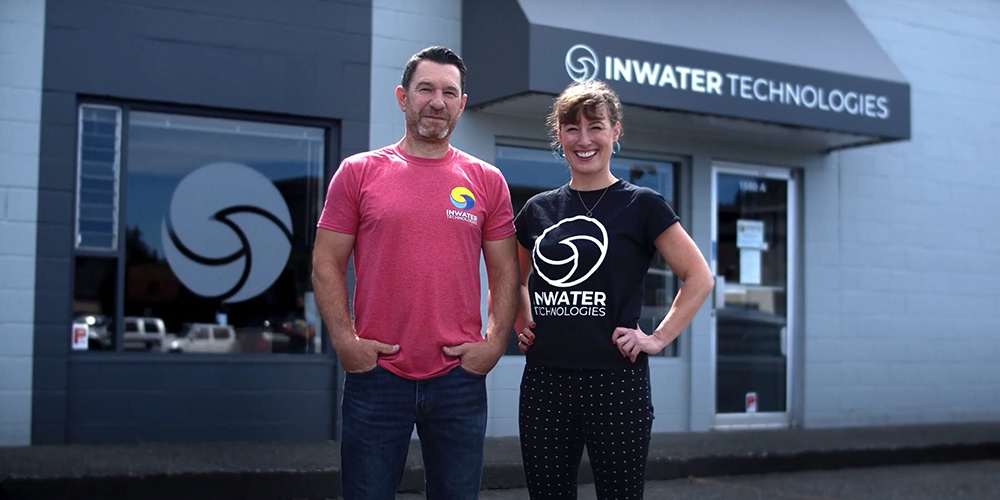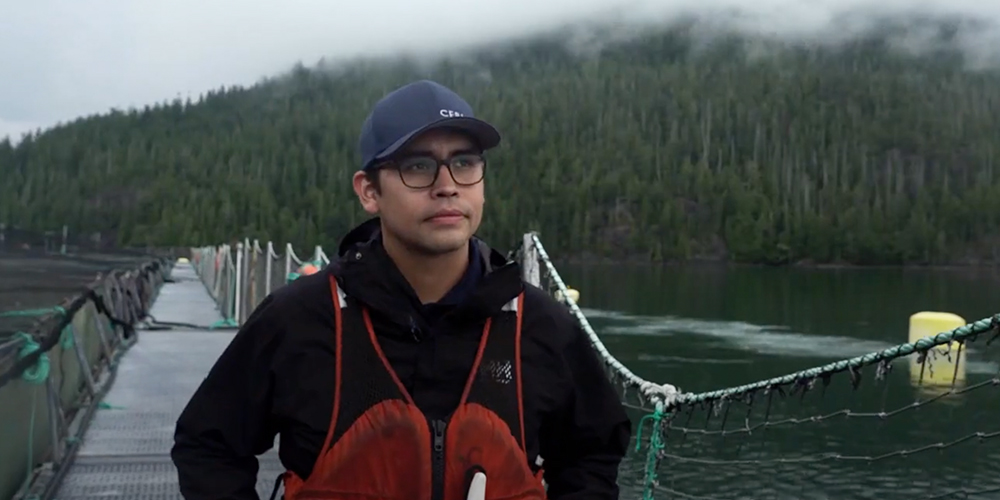 PHOTO CUTLINES:
Kurt Lang and Stephanie King, Co-founders of InWater Technologies based in Campbell River, B.C.
Damon Rampanen, Assistant Manager based in Tofino, B.C. with Cermaq Canada